We all have them—Christmas sweaters that couldn't have ever been fashionable. These are the sort of sweaters that make you quiver every holiday season. You hope that it is not your turn to be gifted one or be asked why you're not wearing your holiday sweater. Nobody knows how they got into the closet, and much worse, nobody knows how to get them out. Until now…
eBay is the answer for ridding yourself of all of life's useless collection of Christmas sweaters. But even the world's largest online marketplace isn't powerful enough to unload these hideous sweaters on its own, which is why we have included these eight tips to help maximize your success, including Mr. Huxtable's worst-ever eight sweaters.
   Lie
Photoshop can put LeBron in YOUR sweater and YOUR head in Jimmy Kimmel's suit.
Lying is wrong, and in fact it is an easy way to get your eBay account suspended. Maybe you can't prove that LeBron James gave you this sweater after losing his final game with the Cavs… but you can't disprove it either. Feel free to get creative. Here are some jumping-off points:
The sweater is haunted
It is a prop from the original Cosby Show (Alternate: Ghost Dad)
It is made entirely from the fur of the rare Rainbow Yak
It can cure the common cold.
The last one is a bit of a stretch, but by the time the sweater arrives, that cold should be long gone, anyway. Use these as starting points and feel free to get as creative as you can.
   Make it a package deal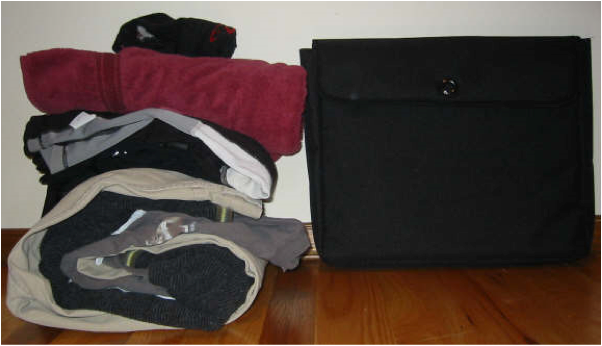 Hide the sweater in the bundle of clothes.
Here's how it works: if you want the Super Bowl tickets, you need to buy the sweater. Sometimes the best way to unload something is to staple it to something else.
Although it is illegal to scalp tickets on eBay, it is not illegal to include them as a "free gift" with the purchase of a $400 pencil case. Turning this technique on its head, it would be wise to include the sweater as part of a combo package. For instance, why not include it with the purchase of every digital camera? And who wouldn't want a holiday sweater to accompany a wrench set? Whether or not the pairing can be justified is irrelevant. What matters is the fact that everyone loves free gifts, and tacking the sweater on may be the best way to unload it.
   Creative marketing
A fashionable head piece!
Remember: just because the manufacturer suggests that this seizure-inducing rag be used as a sweater DOES NOT mean that is the only possible option.
Let this short list serve as inspiration as you write your product description. Are you selling a sweater, or are you selling a:
Car towel
Colorblindness test kit
Jump rope for people with long arms and short legs
Throw rug
Dog sweater
Ancient Egyptian burial gown
Pool filter
Golf bag cover
Windshield sunshade
Once again, creativity is your friend. If all else fails, include a package of fabric dye, and call it an arts and crafts project for children.
   Play the guilt card
Neither of these beautiful angels survived that winter.
As most major religions and any Italian mother will tell you, a little bit of guilt can go a long way. For that reason, tugging on the heartstrings of America may be the best way to move your hideous merchandise.
Not only was this sweater supposed to be a gift for your oldest son, who died from rare illnesses caused by excessive patriotism, but it was given to you by your grandmother, whose dying wish was to see it enjoyed one final time. You would wear it, but unfortunately it doesn't fit you (because of your glandular problem), and stretching it out would only ruin its legacy.
To show your appreciation to anyone who will buy this sweater, a portion of the proceeds could purportedly be donated to cancer/AIDS/juvenile diabetes research. Never underestimate the power of guilt in marketing.
   Gag gift
How fun!!!
"Gag gift" is the loose-fitting term that can be applied to just about anything that has no practical use. Labeling this sweater as a gag gift is blatantly admitting that it's horrible, but playing that wretchedness as its number one strength.
Encourage people to buy this sweater for that prankster in their lives. Why? Because he is such a prankster, he will think it's hysterical! Never mind the fact that gag gifts are a terrible, show a cold sense of humor and can be trumped by literally anything else… he will laugh for days!
   Office Party Wear
Hoping to distract you from workflow during the holidays.
Ugly sweater holiday parties have become the rage in recent years, as people who have failed to sell their sweaters needed to come up with a way to use them.
Ironically, this has actually created a market for ugly holiday sweaters, allowing dozens of other people to succeed where the partygoers have failed.
Another way of playing the sweaters weaknesses as strengths, the office party angle is becoming a pretty solid bet. The upside to this is that you'll almost certainly sell your awful sweater.
The downside is that you only have a window of three weeks out of every year to do it, which means you do not want to be late. Get those sweaters online immediately after Thanksgiving, and you'll have a pretty good shot and dumping them.
   His & Puppy Sets
Your dog will not be pleased.
If you really want to move that sweater, find a doggy sweater that is passably similar, as in, "they're both red." The type of person who wants to look like a Christmas card in January is likely to want to match his or her dog, too.
Your dog may run away as soon as the photo session is complete, but you could make a few bucks.
   Free Shipping
Packing peanuts
Including free shipping always sweetens the pot when attracting potential buyers, but this last ditch effort takes it a little further.
When all else fails, feel free to use your super-ugly-awful-disgusting holiday sweater as shipping material. You'll need to protect the items you're sending from physical harm as well as theft, and a holiday sweater should provide ample coverage from both.
Wrapping glass or other fragile items in a rainbow of wooly protection may be the only way to cut shipping costs and finally get rid of that horrid, horrid sweater.
Sweater Statistics
For those of you who need more than just the ugly threads themselves, here are some fun statistics about ugly sweaters sold on eBay. From 2008, when the average sales price of an ugly sweater was $14.37, to 2009 when it averaged $15.61, up to this year's average of $16.71, ugly sweater prices have increased an average of 2.4% per year.
The number of ugly sweaters sold on eBay in 2010 from the 2009 total of 15,051, went up to 17,882. Another interesting thing that happened is that the number of queries related to Christmas, in general, peaked in 2009 with 6,325 just in November. Although the rate of shoppers querying Christmas has fallen, the rate of those who search for ugly sweaters has actually increased.
From just 28,880 ugly sweater searches in November of 2008, to 52,699 in 2009, and a surprising 148,346 eBay searches for ugly sweaters in November of 2010, the ugly sweater trend promises to increase, further. While querying ugly sweaters, "Christmas Sweaters," "Ugly Christmas Sweaters," and "Ugly Sweaters," all ranked high in results.
Conclusion:
eBay is the marketplace of the world, and Cosby is a national icon, but your audience needs more coaxing than that to buy an ugly sweater. Using these simple steps, you can be sure that you unload your holiday sweater!
images:
http://weblogs.variety.com/photos/uncategorized/2007/07/13/lebron.jpg
http://www.lullaboobaby.com/images/_lib/bugaboo-bee-package-deal-4-3001896-0-1276641586000.jpg
http://i.dailymail.co.uk/i/pix/2009/07/21/article-0-05C71037000005DC-453_468x384.jpg
http://www.essexwheelers.ca/trailerparty.JPG
http://www.thedailygreen.com/cm/thedailygreen/images/thumbs-ugly-sweaters-lg.jpg
http://image02.webshots.com/2/0/54/89/106605489ivwYsT_fs.jpg
http://www.balloon-juice.com/wp-content/uploads/2009/12/annesneer.jpg
http://i.telegraph.co.uk/telegraph/multimedia/archive/01201/ixparty108_1201622c.jpg
http://www.kleenkuip.com/images/blog_pugSweater.jpg
http://images.teamsugar.com/files/upl1/10/104166/47_2008/f2324477d3837181_argyleholidayL.preview.jpg
http://knittingincolor.blogspot.com/shelterstuff.jpg
http://www.examiner.com/images/blog/EXID3040/images/ugly_sweater_party.jpg